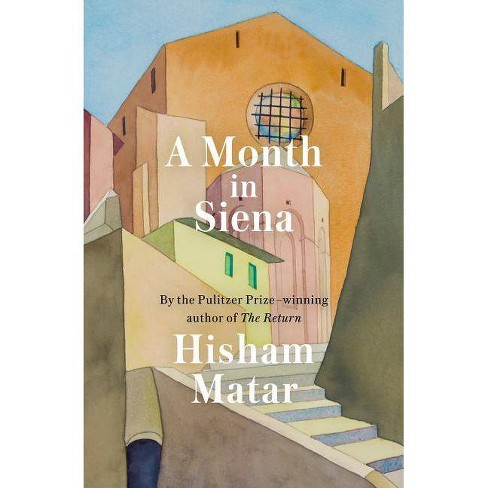 A Month in Siena by Hisham Matar is a Libyan man's visit to Siena. Matar is an American born British-Libyan writer. His memoir of the search for his father, The Return, won the 2017 Pulitzer Prize for Biography or Autobiography and the 2017 PEN America Jean Stein Book Award. His debut novel In the Country of Men was shortlisted for the 2006 Man Booker Prize.
Siena is a city with a medieval cityscape and the art to compliment it. Matar is drawn to the town for the art, and he goes alone with little knowledge of the Italian language. He concentrates on a dozen paintings (two are in New York but by Sienese painters) and ties personal feelings and general philosophy to what he sees. One may find it odd that a man of Muslim heritage would have a love affair with art that is very much in the center of Christendom. But, David does fall into both religions, and Ambrogio Lorenzetti's The Allegory of Good and Bad Government can apply to all humankind. There seems to be a cross-cultural exploration. He examines the paintings in detail and comments and expands on what he sees. 
This book may be part of his personal healing. His father, an outspoken opponent of the Gaddafi regime, was kidnapped in Cario and never found despite his searches. This can best be seen in the visit he made to the Metropolitan Museum of Art in New York to see the Sienese painter Giovanni di Paolo's Paradise. It is a painting showing the reunion of people in heaven. He expands on this with a quote from Heloise who is reunited in the art with Abelard:
"If the portraits of our absent friends are pleasant to us, which renew our memory of them and relieve our regret for their absence by a false and empty consolation, how much more pleasant are letters which bring us the written characters of the absent friend."
The themes of good and bad government, tyrants, and reunion weigh heavily in the author's life. It is a book about Siena and the Siena school of artists but it also a book about loss and promise.