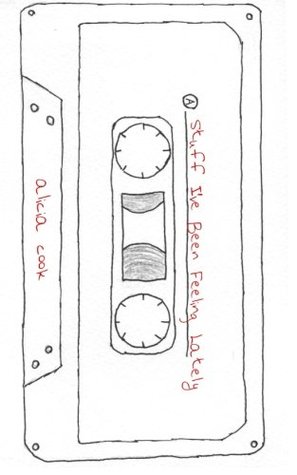 Stuff I've Been Feeling Lately by Alicia Cook is third published work.  Cook is 28 and from New Jersey. She earned her Bachelor's Degree in English Literature in 2008 and her MBA in 2012. She is employed as the Associate Director of Communications at Saint Peter's University.
Cook explained the purpose for this collection. It was written in fourteen days to benefit the Willow Tree Center a nonprofit addiction and counseling center.  All funds from the book will be donated to the Willow Tree Center.
As the cover hints, the poems are tied to music.  The book is divided into two sections — A-Side and B-Side. Each poem is titled as a track number and each poem has a song associated with it.  The poems in the first section run in a freestyle and almost in a conversational manner.  Cook tells of love, loss, healing,  and the usual problems of growing up and older.  I  was trying to decide myself if it was poetry or thoughts linked together with music.   A-side, Track 48 seems to sum up the writing style. When given an assignment by her professor, she decides to do something else and receives an A on the project nonetheless:
Alicia, though you blatantly
ignored the prompt, after reading
this succinct conspiracy theory,
I can see the original essay topic
would have bored you.
Does your brain 
slow down?
No. 
This seems to be the pattern of the writing. The poet writes like she chooses and does it well enough so that it holds the reader's interest.
The songs used as "listening to" while writing after my time.  I did recognize a few I listened to like the Beatles and Rod Steward.  I recognized some of the names of others but not the music and some of the musicians I never heard of.  That can be expected since I am almost twice as old as the poet so I will leave commenting on the music to younger reviewers.
The B-side impressed me.  Until then I thought it was an OK collection.  It's not what I would call poetry, but not exactly prose either, but it did have an appeal to it.  The B-Side is a repeat of the A-Side but with the use of a Grille Cipher.  The blackout poetry had much more of a feel and mood than the A-Side.  It was discovering the encrypted message in the writing and made the collection more than what it originally seemed.  The B-side is usually the lesser music than the A-Side but here the opposite is true.  This did much to raise the level of the poetry presented.  Very well done.