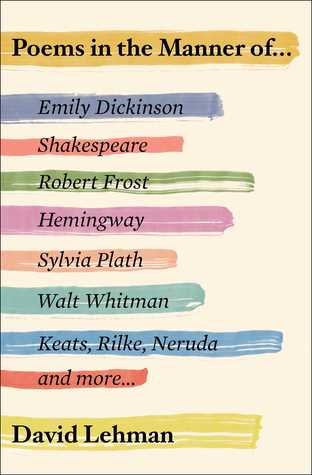 Poems in the Manner Of by David Lehman is a tribute collection of poetry. In 1994, Lehman succeeded Donald Hall as the general editor of the University of Michigan Press's Poets on Poetry series, a position he held for twelve years. In 1997, he teamed with Star Black in creating and directing the famed KGB Bar Monday night poetry series in New York City's East Village. He has taught in the graduate writing program of the New School in New York City since the program's inception in 1996 and has served as poetry coordinator since 2003. He has edited The Best American Poetry Series since 1988.
I have become familiar with Lehman a few years ago and The Best of American Poetry Series. I look forward to this collection every year. I reviewed his New and Selected Poems in 2013. I enjoyed his writing and his edited works. This work is a bit different and some of it a bit out of my league. I have read some of the classical poets as well as some newcomers. Lehman has a far greater breadth of poets than I do and that lead me scrambling to look up some of the poets Lehman was paying tribute to. It was a learning experience for me and a welcomed one at that. I am still trying to fit the Freud multiple choice section and the Astrological charts. I did get the part of Hamlet on the Harvard fencing team and being foiled and the "Don't fence me in". I am sure there was more humor that I was just missing.
The poets I am familiar with were well done. Frost avoiding the path less traveled by just cutting through the pathless forest and the tribute to Gertrude Stein captured that same feeling of being over my head when I first read Tender Buttons. Some poems stuck with me through the collection like the "Poem in the Prophetic Manner" Lehman says was inspired by Bob Dylan's "Highway 61" revisited. The poem, however, reads in the same rhythm as "Desolation Row" and ended with a "Chimes of Freedom" touch. A few poems later in "Poem in the Manner of the 1960s" a line read:
They are naked and the moon is yellow.
I could help thinking the that the moon isn't yellow; it's chicken. I suspect Lehman triggered the Bob Dylan part of my brain.
Tributes to Tennyson, William Carlos Williams, Byron, and Keats are unmistakable in style and theme. Non-poets are included too. Tributes to Hemingway, Woolf, Marilyn Monroe, Jazz music, and even mundane punctuation (which may include a nod to Woolf) are well done. As for the poets I did not know or know well, I learned a great deal and gained a new appreciation. A very worthwhile collection that allows the reader to branch out and has allowed the poet to show how other poets influence his work.