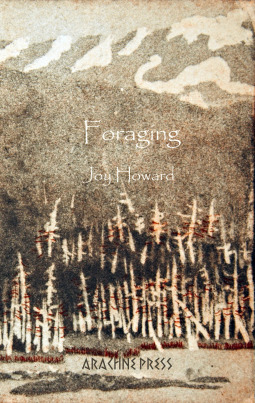 Foraging
by Joy Howard is a short collection of mostly nature and personal poems. Howard runs Grey Hen Press and edits and publishes anthologies featuring poetry by older women. Her work has appeared in several publications over the years. Foraging is her first collection in quite some time.
Howard's skill with words is quite impressive. This collection is mostly short poems that use few words to create sharp, crisp images. The words align like atoms in a perfect crystal. Every word used is needed and no word is unnecessary. Not a single word is out of place in her poetry matrix. I thought early on that this might be an arbitrary trait I picked up in her writing. Howard confirmed my thinking with the poem "A Perfect Hexagon" which examines the honeycomb structure of a beehive from an engineering and mathematical perspective. She mimics the bees efficiency in her writing and sacrifices nothing in the process.
At the Window, Waiting
She stands
owned by a locked landscape
snow trees mist
The stillness of eternity
She dreams
a green frock an open window
a crowding of ship's masts
The expectation of love
"Lineage" compares the curl of plowed land to a wedding ring symbolizing the connection or marriage to the land. "Empty" describes a house falling apart after the owner dies. It parallels the poet's feeling of loss of the person who once lived there. The poet's hand being as empty as the house. Later in the collection, she writes about poetry, publishing, and a touching poem about her sister. Howard's poems, although varying in topic, for mourning to jest all are written to an exacting standard. The exactness of the writing gives the poetry a natural beauty that shows no signs of being forced. It is efficient but organic. A pleasure to read and ponder.