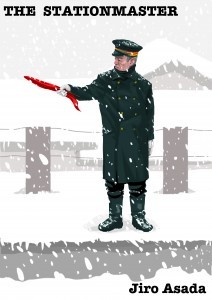 The Stationmaster by Jiro Asada is a collection of short stories with a common theme of touching miracles. Asada is a former enlisted man in the Japanese Self-Defense Forces and now a prolific writer with some seventy novels printed over seventeen years. In the introduction, Margaret Atwood explains that this book sold 2.5 million copies in Japan, a nation of 127 million people. Put into perspective that would equate to 6 million copies in America. That is completely unheard of for a collection of short stories.
I admit it. I am a sucker for a train story and that is the reason I chose this book. I was pulled in from the start — a soon to be retiring stationmaster, on a very quiet route, running old trains. Otomatsu is a man who remembers the old days when the Kiha 12 was a new and shining train. Now it is old and is limited to runs for school children. Otomatsu remembers when the long coal trains ran his route; they are all gone now. He still wears his old uniform (instead of the new style) and executes his duties with the precision of a Marine. Like a Marine, he holds a similar motto, "Once a railroad man, always a railroad man." For Otomatsu, much of what his life was has disappeared. The railroad route will be retired. His wife has died a few years before. His daughter died as a young child. Asada writes to bring a miracle or moment of happiness to a man whose world has and is closing in on him.
The other stories were good and all a bit different. None of them took me in as The Stationmaster did. "Love Letter" was moving in a completely different manner and quite unexpected. "The Devil" was a bit eerie like a Hitchcock short or Night Gallery episode. The other stories reminded me of a Hallmark story or movie. Things worked out too nicely and too perfectly. Perhaps this style of writing is popular in Japan. Asada is known for his picaresque novels which gained my interest, however, that style is lacking here.
I have a rather mixed review of this collection. It did hold my interest, but it is not my typical read. I was pulled in with a train story and stayed for the picaresque. I wanted more of that nostalgia of growing old and seeing the what made my youth so important slowly disappear… like steel mills, handwriting letters, drive-in theaters, radio…. I should have looked at the other stories before I jumped into this book. The writing is excellent. The stories have a nice twist and some originality before the "Hallmark" moment. Recommended for readers who like those "just so" stories.