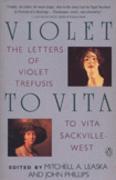 The Letters of Violet Trefusis to Vita Sackville-West are the one-sided conversation between the two writers. Vita's letters to Violet were destroyed by Violet's husband Denys and the racier ones destroyed by Violet herself. Their affair was much longer than the twenty-two years represented by this collection of letters. It lasted a lifetime. In Virginia Woolf's "love letter" to Vita Orlando Violet plays the role of Princess Sasha. It was a deep and lasting friendship and love affair that was even recognized by her current lover at the time.
The letters make the bulk of the book outside of the introduction. Small introductions are written to each section of letters. Vita was apparently was a rock star of her time. Women threw themselves at her. Violet was obsessed with Vita and it shows in the letters. No doubt the love shows through when Vita responds in kind. However, when Vita ignores Violet's pleas and amour, Violet grows almost fanatical in her devotion. She turns into what today would be a Facebook stalker in the age of letters. She mocks Vita for going back to her weak husband and domestic life. When things were good the letters reflected it. A series of letters uses pet names from Vita's Challenge Julian and Eve. Jullian was the persona Vita took on when she dressed as a man, as she did on more than a few occasions, when out with Violet.
The only problem I had with this book was the feeling I was only hearing one side of a phone conversation. The letters from Vita were lost long ago and would have made an excellent addition to this collection. It is difficult to tell if Violet was overreacting or perhaps even delusional at times without seeing Vita's letters. Vita does tell her side in her own works, but she has the luxury of framing things in her memory of past events rather than what was actually written at the time.
This collection of letters provides support and a check on Vita's own writing — Portrait of a Marriage. Vita Sackville-West was quite the rebel, free spirit, and mover of her time. She is often seen just as a shadow of others like Virginia Woolf. Her writing was a second rate, according to Virginia Woolf, and only a few books remain in print. I found here writing hit or miss, but after reading Vita's autobiography, biographies, and letters and gaining insight into her life perhaps Challenge will have more meaning to me. The more I read about Vita Sackville-West the more interesting I find her.
The rock star herself