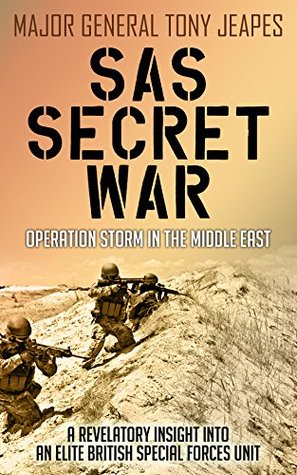 <i>SAS Secret War: Operation Storm in the Middle East</i> by Major Tony Jeapes is the history of Dhofar Rebellion in Oman. Jeapes was the first SAS officer to reach the rank of General. He commanded the British forces in Northern Ireland during the 1980s and retired as commander UK land forces.
This book was originally published in 1980 as <i>SAS Operation Oman</i> after editing by the Ministry of Defence and the Foreign Office.  This edition was released in 2000 without the censorship.  The author does leave some names out of the book but includes the previously censored material.  Also included is a background on the Special Air Service (SAS).  The SAS is part of Britain's Special Forces.
In the Cold War battles against a popular communist uprising, most were unsuccessful with Cuba and Vietnam perhaps the most well known. The Dhofar Rebellion against the Sultanate of Muscat and Oman is little known.  However, this is one of the most successful battles against communist rebellion.  The operation is still used as a textbook example of counterinsurgency in Britain.   
Jeapes gives a detailed history with a calm personal account.  It is very British in that Jeapes records facts and leaves emotions out of the story.  There is some humor in dealing with the local soldiers and their attitudes.  The locals wanted their AK-47s and not the British weapons.  The AK47s were a symbol of a warrior taken from the enemy.  Even after demonstrating the effectiveness of the British weapons, it was still a hard sell.
The success of the mission lay in the ability to build trust and win the hearts and minds of the people.  One of the more important non-military aspects of the SAS involvement was veterinarian support to help the locals keep their livestock alive and well.  This was very well received.  Medical support and amnesty for surrendering rebel troops bolstered support. The Omani troops were treated well and made to feel part of the process and not token national support.  Not everything went smoothly in the planning and building stages, but issues were worked out.  The effort was not a one-sided British affair but a joint affair.
The <i>SAS Secret War</i> is a well written account of a successful and mostly forgotten counterinsurgency mission. It offers insight in cultural as well as military tactics in the formation of a successful undertaking.