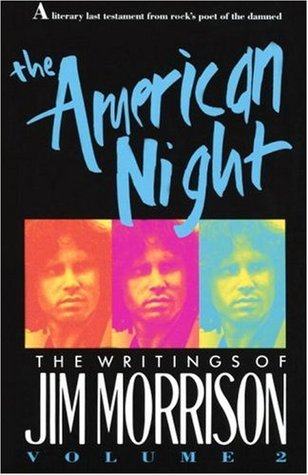 I came late to The Doors, but I was hooked for many years. I even worked to be stationed in Southern California to catch some residual magic that the Doors may have left. I went to Venice Beach to see the giant mural of Jim Morrison on the building he used to stay at. That was all over thirty years ago. I still listen to The Doors and the lyrics still pop right into my head.
The American Night: The Lost Writings is not as lost as the title makes it out to be. I wore out a few cassettes of American Prayer in my day and in reading now the music and beat enters my reading. There is an urge to follow the silent music by reading out loud. In other sections complete songs appear like the "Soft Parade," "Celebration of the Lizard," and "Run With Me."
One section is entitled "The Hitchhiker" is written as a screenplay draft. It is murder and an unbalanced murderer, who seems to be the inspiration or inspired from "The End." For me, there was a mix of known and unknown. A great deal of the writing was well worth reading a few I guess were fillers, but all in all well worth the read.
This book was not read for a review.