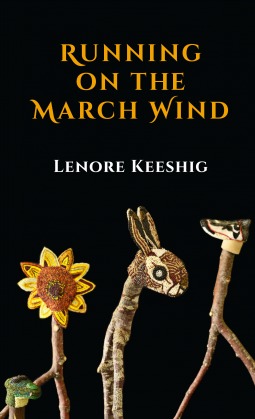 Running on the March Wind by Lenore Keeshig is a collection of a Native Canadian (First Nation) poetry. Keeshig is a poet and storyteller from the Chippewas of Nawash Unceded First Nation. Keeshig was a founding member of the influential Native writers group "The Committee to Re-establish the Trickster" in the 1980s. In the late 1980s, she was also part of a group of Native writers who spoke out against the appropriation and misrepresentation of Native stories and culture by non-Native writers. In 1989, Lenore gained widespread recognition when she addressed a panel at the Writer's Union of Canada asking non-Native writers to "Stop Stealing Native Stories. During the cultural appropriation controversy, she became one of the best-known voices speaking out on the issue.
This collection opens in an unexpected way. Keeshig recounts playing as a child and the children would play Cowboys and Indians. Everyone want to be a cowboy because the Indians were the bad guys. The poem concludes:
So we were all cowboys back home
on the reservation.
There is feeling that modern culture has reached deep into the reservations and poisoned the indigenous heritage. Later critiquing the national anthem:
O Canada — your people shout Our home and native land
(Our home, your settled land)
Not everything is negative. There is a poem of the bear that takes place in many shorter poems interspersed throughout the collection. The section titled "Songs for the Tress" is simply amazing. The connection with something as simple and overlooked as trees is deep, and almost creates a sentient being in the plants. This is shown again in another way:
South America is killing rainforest. British Columbia is killing rainforest. Northern Ontario is killing white pines. In Mississauga a man bulldozed 48 acres
of trees — his land
HIS land for developing.
Poetry is not something I associate with the original people of North America. I do associate a culture with a strong oral tradition and creative, meaningful stories. Keeshig expands on this tradition with open verse poetry. She expands on the respect for the nature that surrounded her people and the pride of their civilizations. Although much modern culture is shown to be negative, the writing itself seems to hold out hope and a positive message. One can easily see that Keeshig wants for children to be Indians again and the Indians were not the bad guys. She wants to set the record straight and preserve the past. Although written for a native North American audience it is the non-native population that has the most to gain from this collection — Informative, cultural, and spiritual lessons.