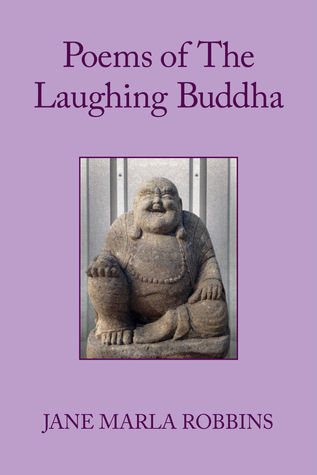 Poetry and Buddha seem to be a perfect mix of insight and harmony, but I was expecting a very cutesy type of poetry with this mix. Although it did contain a touch of that cutesy element, I thoroughly enjoyed the small collection of poems that center around the stone Buddha in Jane Robbins' back yard. The theme is pretty straight forward; keep laughing or at least smiling. To be more Buddha-like means to imitate her statue that, like the Buddha, never lets things get him down. Even when the neighbor's dog gets loose and wanders into the author's yard and urinates on the Buddha statue, Buddha keeps laughing.
This is a feel-good collection of poetry and will bring a smile to the reader and a bit of relaxation. It is not a deep look into Buddhism, but rather like most religious statues and paintings a reminder of our purpose. Bad things happen as well as good and often we are powerless to change their course. We must accept what we cannot change, much like Camus said in the Myth of Sisyphus — "One must imagine Sisyphus happy."
Poems of the Laughing Buddha is nice collection and reminder to all of us to that we cannot control everything in our lives and sometimes laughing with the Buddha is much better than cursing the world. Also to Robbins credit, her message of being positive is not overdone like so many self-help, find happiness in your life books that flood the market. Confucious said, "Life is really simple, but we insist on making it complicated." Buddha said, "There is no path to happiness: happiness is the path." Robbins clearly demonstrates these ideas with her words.