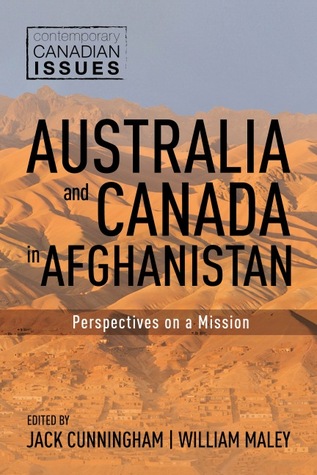 Australia and Canada in Afghanistan: Perspectives on a Mission edited by Jack Cunningham and William Maley is a collection of essays concerning Canada's and Australia's involvement in Afghanistan. The contributors range from academic to political and military.
As a student of foreign policy and a citizen of the United States, I take great interest in how other countries view the actions of my country. Canada is my closest neighbor and Australia very distant, but both sharing a common British heritage and language. Like many people, I do not agree with everything my country does, regardless of which party is in power. Seeing and understanding the views of neighbors and allies provides a different perspective for me.
Canada entered the fight in Afghanistan when Article 5 of the NATO charter was invoked for the first time. An attack on one member will be seen as an attack on all members. Canada dutifully rose to its position. I see this as a bit beyond what the original charter intended. Article 5 was directed at the Soviet Union and not a third world country. Canada took even more of a leading role in Afghanistan as a NATO member when the US concentrated its efforts in Iraq and left Afghanistan to NATO. Canada declined to participate in Iraq but felt the need to prove itself as a NATO member outside of Britain's shadow. Canada has a long and proud history of peacekeeping, but Afghanistan proved to be different than previous missions.
Australia is connected to the United States by the ANZUS treaty (Australia New Zealand United States). Australia has sided with the United States before. They participated in the Vietnam War along the United States. They also became part of the "Coalition of the Willing" in Iraq contributing special forces and F-18 Hornets. Australia later became involved in the nation building process.
Two countries contributed to a war brought on by the attack of the United States. The attack, arguably, was brought on by US foreign policy in the region. Neither Canada nor Australia was threatened by Al-Qaeda and by siding with the United States would make them targets. There is the common belief that countries want to remain close to and in the good favor of the United States. The primary reason is security. Nations under the US security umbrella do not have to build huge militaries to protect themselves. It is a recent theory that China opened to the US in the 1970s as a way to relieve the pressure of forty-two Soviet divisions on their border. Smaller military budgets mean more money is available for other uses. Still, when called nations willing show up to do their part.
Afghanistan proved to be unique for both countries. The peacekeeping and public works projects to win hearts and minds were still being conducted in hot zones. Unlike most peacekeeping missions, peace had not been realized (and still hasn't) in most of the country. Regional and tribal disputes and struggles for power hampered any reconstruction work. Problems with public opinion varied and changed in both countries. Perhaps reminiscent of World War I, no one expected a war with a third world country to last almost a decade and a half.
Australia and Canada in Afghanistan: Perspectives on a Mission provides several different opinions on the involvement and lessons learned in Afghanistan. It was a war that looked liked it was nearly complete, and then the country that retaliated for the attack on its own home soil became distracted and decided to fight another war leaving Afghanistan to NATO and other allies. Australia and Canada in Afghanistan: Perspectives on a Mission is informative and covers a variety of issues that go beyond war fighting. Although classified as "Contemporary Canadian Issues" by the publisher, it well worth the read for Americans interested in the effects and opinions of its foreign policy and its relationship with its allies.