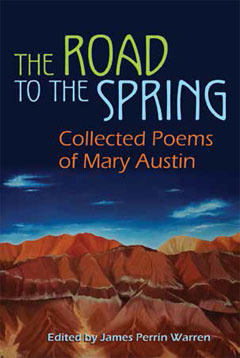 The Road to Spring: Collected Poems of Mary Austin, edited by James Perrin Warren, is a collection of poetry influenced by the American Southwest. Austin was born in Illinois in 1868 and graduated Blackburn College in 1888. She married and settled in Bakersfield, California. Mount Mary Austin in the Sierra Nevada chain is named for her. 
I had no information on Mary Austin when I chose to read this collection. My usual shots in the dark with poetry have yet to lead me astray. This collection proved to be something very different from any of the poetry I have read before. It was centered on Native American life and traditions. I have studied Native Americans some in the historical context and know of the oral tradition of the people. Her work was something totally unexpected. Native American tradition put to poetry. It is not a combination that is expected, but Austin's work is brilliant in capturing and combining two different cultures. From parting
Breaks now, Breaks now my heart
Thinking, from thee I part
Heart thou what says my heart 
Keep me
Keep me in thine alway 
(Sioux Song of Parting)
To nature
I do not know if there is a God
The center of this whirling orb
Making and unmaking 
I do not know if there is a God —
But there is spirit in the wood.
(I do not Know) 
To war
Weep not for warriors who go
Gladly to battle
Theirs to revenge
Fallen and slain of our own people;
Theirs to lie low
All our foes like them,
Death to make, singing
(Warrior's Song) 
The collection with a strong Native American theme also contains a few diversions with San Francisco as the topic for two poems and forest rangers the topic of another. There is also a Southwestern feel to other poems. The Road to Spring is a unique collection of poetry that spans two cultures. Warren's editing includes a great deal of notes and clarifications for the reader. This is an excellent collection that, in addition to great poetry, provides historical and cultural insight to America's original inhabitants and the turn of the century American settlement into the Southwest.